I. Hasenko

∙ Product Updates ∙
Expanded European Coverage via Nordigen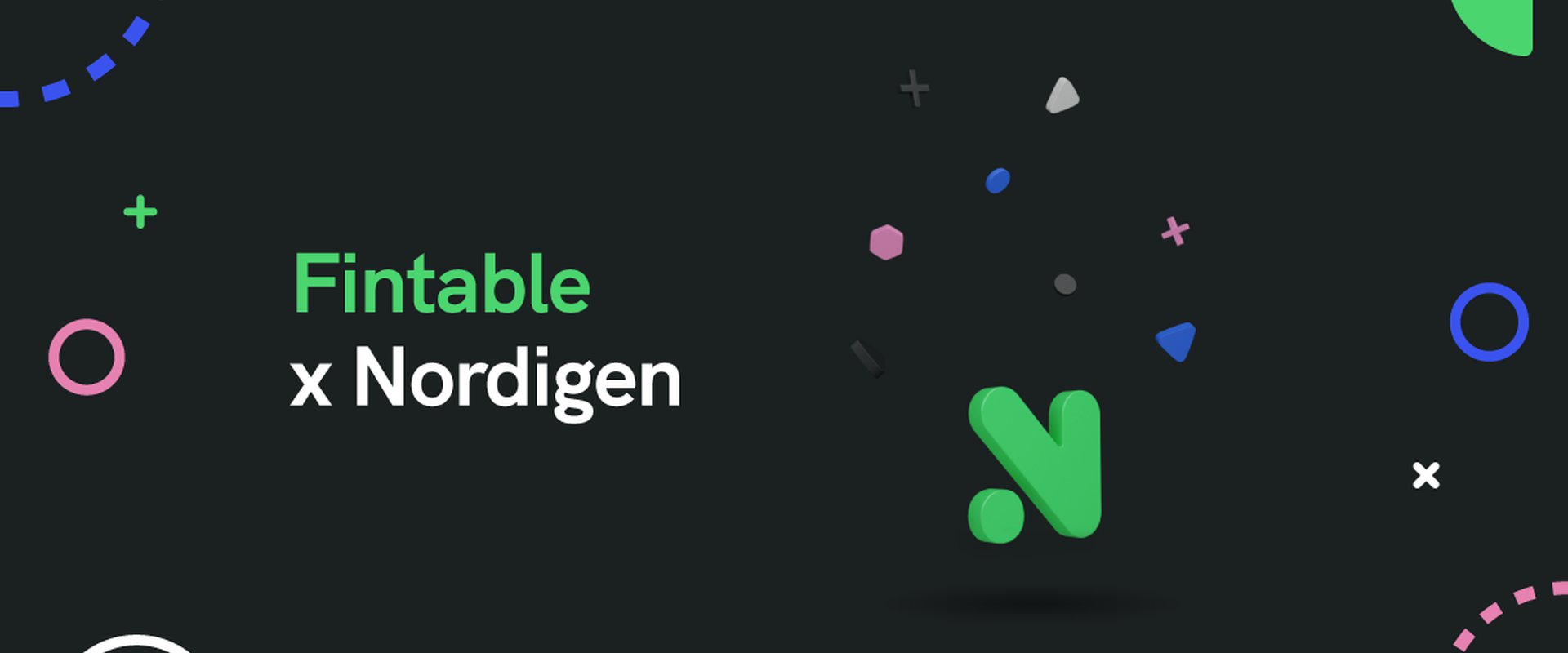 "Fintable and Nordigen share a similar vision- free open banking data access for everyone. Fintable has the goal to become the quickest and easiest no-code tool that uses open banking data, and I'm excited that our solution is helping them do so."
Rolands Mesters, CEO and cofounder of Nordigen.
The world's first and only Airtable finance platform Fintable partners with European open banking platform Nordigen to leverage open banking data. Fintable is a "no-code" tool that enables you to quickly analyze open banking data in a spreadsheet, without writing code. Whether you have business workflows that revolve around realtime transactions, or you just want to verify a third-parties income for lending purposes, Fintable enables you to fetch open banking data in a familiar "no-code" interface like Airtable in 5 minutes. No need to hire developers to connect to open-banking APIs, no need to build finance tools which could take several months to code.
"I've worked with many open banking data providers in the United States and Europe and Nordigen by far has been the easiest and simplest to integrate. Nordigen has also unlocked new use-cases and pricing plans that were not possible before. Thanks to their free tier and data enhancement option, we are now able to use a freemium business model and offer a free-tier to our customers as well as AI-powered insights to those who want to pay for more. Nordigen has made many things possible for us that weren't before and I look forward to strengthening the partnership with a key player in the open banking supply chain!"
Isa Hasenko, Founder and CEO of Fintable.
Using Nordigen's API, Fintable allows their customers to access open banking data, without needing any coding expertise. As a result, Fintable is able to offer automatic syncing, historical archive, client dashboards, and transaction data analysis using their no-code tool. Whether customers have business workflows that revolve around real time transactions, or they just want to verify a third-parties income for lending purposes, Fintable makes it possible. Nordigen's API is fully PSD2 compliant, so Fintable customers will also benefit from a safe and secure connection to their open banking data, as they will never be asked to share their bank credentials with third parties.
About Nordigen
Nordigen is a freemium open banking platform that provides free access to open banking data and premium data insights. Nordigen's free API connects to more than 2,000 banks in Europe and serves fintech companies and developers in 31 European countries, including the UK. Nordigen is a licensed Account Information Service Provider ( AISP), regulated by the The Financial and Capital Market Commission of Latvia and authorised in 31 European countries.